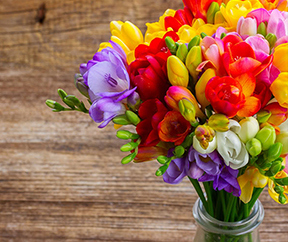 Time to think about spring bulbs
Flowering bulbs like jonquils, hyacinths and freesias fill the air with fragrance during late winter and spring and tulips, daffodils and anemones can create swathes of gorgeous colour or brighten an outdoor area when grown in a pot.
Whatever your favourite spring flowering bulb is, it's time to start planning! A little preparation now will result in much healthier bulbs and a gorgeous floral show.
Here are some tips to help create a fantastic display:
In a sunny location out in the garden, enrich the soil in the planting area with some Yates Thrive Natural Blood Bone with Seaweed. It's a rich source of organic matter that will help improve the structure of the soil, encourage earthworms and beneficial microorganisms and provide the newly planted bulbs with gentle, slow release organic nutrients to promote good early bulb growth.

For potted bulbs, choose a pot with good drainage holes and fill with a quality potting mix such as Yates Premium Potting Mix. When planting bulbs in a pot, they can be grown quite close together, which helps create a lovely dense look.

Follow the directions on the bulb pack as to how deep to plant the bulbs and ensure that you plant them the right way up!

Water the garden bed or pot after planting to help settle the soil or potting mix around the bulbs.

As soon as the first leaves emerge, you can start to feed the bulbs each week with a high potassium plant food such as Yates Thrive Flower Fruit Soluble Fertiliser, which encourages healthy growth and helps promote future flowers.

Potted bulbs will need regular watering to ensure they have enough moisture.
Cottage charm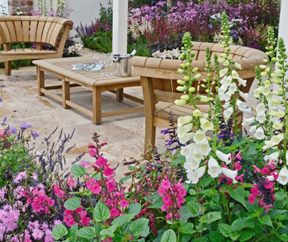 Foxgloves and hollyhocks are two must have plants when creating a cottage garden. They're both very stylish, have beautifully pretty flowers and just ooze cottage charm. Autumn is the best time to sow seed of both foxgloves and hollyhocks.
Yates Foxglove 'Foxy' has ascending spires of exquisite bell-shaped blooms in cream, purple and rose colours and is a fabulous way to add life to partly shaded areas in the garden. These tall, elegant and stately flowers create a magnificent and long-lasting display, with plants reaching up to 1 m tall.
You can sow foxglove seed direct where it is to grow, around 3 mm deep, or alternatively seedlings can be raised in punnets of Yates Black Magic Seed Raising Mix and transplanted when they're large enough to handle.
Foxgloves do best in a moist, partly shaded spot though will tolerate full sun if kept well-watered. Once established, foxgloves will often self seed for many years.
Yates Hollyhock 'Double Elegance' is another cottage giant, with towering stems of gorgeous brightly coloured, velvety double blooms reaching up to 2 m tall. Hollyhocks make an ideal decorative backdrop along sunny walls and fences.
Hollyhock seed is best sown into punnets of Yates Black Magic Seed Raising Mix and the seedlings transplanted into a sunny garden bed when they're large enough to handle. If planted in an exposed area, they will benefit from being staked due to their height.
Watch out for snails and slugs, which can damage tender young seedlings. A light sprinkling of Yates Blitzem Snail Slug Pellets around the plants will help attract and kill snails and slugs.
Both foxgloves and hollyhocks should be fed each week with Yates Thrive Roses Flowers Liquid Plant Food, which is a complete fertiliser that's boosted with additional potassium to encourage lots of beautiful flowers.